Leading the way in cranes, labour hire and traffic control solutions across Australia
KPI Construction Services commenced operations in January 2010, founded on the experience of Founder Kevin Ramsay who has an extensive knowledge base and experience in the mining, civil and construction industries. In 2013, Aaron Ramsay joined the KPI team also bringing a wealth of experience to the company. KPI has a data base of over 400 experienced workers, ranging from Crane Crews, Traffic Controllers, Plumbers, Carpenters, Skilled Tradesmen and Labourers. With offices located in Victoria, Queensland, New South Wales and Western Australia, KPI is equipped to provide services Australia wide.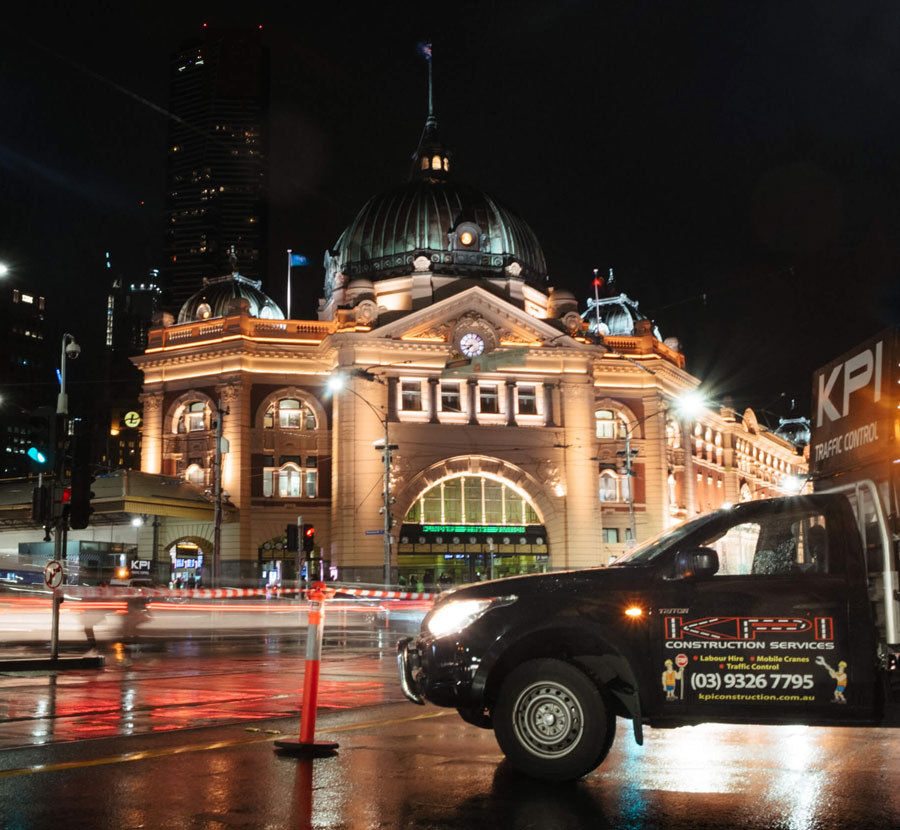 Why KPI Construction
KPI supplies multiple services for construction sites, organised reliability from a single call: Labour hire, Crane hire, Traffic Control. KPI Construction Services have the maturity and experience, the best people, best equipment and processes for the job.
RELIABILITY

SAFETY

PRECISION

QUALITY

EXPERIENCE
Our Importance / Values
At KPI we are dedicated to upholding our company values of compliance, safety, the community and reliability to ensure that we are providing and supporting our team and our clients.
Our purpose is to arrange and develop the right traffic management and Labour Hire services to meet multiple industry requirements for all our clients.
Integrity
At KPI we treat everybody fairly, politely and with respect

We respect the privacy and the rights for others

We build long term relationships with our clients
Participation
At KPI, we work together with our staff and our clients to build a valid and long term relationship which we base on transparency and trust

We value all our clients and will continue to meet their needs

You can be assured that at KPI we are reliable and available 24/7
Service Standards
For the past 10 years we have provided prompt, relevant, accurate and professional services to all our clients and we will continue to do so

We will listen to our clients' needs and appreciate any feedback

We provide a consistent, professional experience for all our clients both large and small
KPI LEADERSHIP
An industry leader with hands-on experience
Founders
Kevin Ramsay

KPI Founder

The Ramsay family has been involved in Melbourne's construction industry for over 70 years. Kevin himself has over 35 years' experience in all aspects of building and construction. Kevin has a background in industrial relations, tower cranes, mobile cranes, crane consultancy and customer service. You would be hard pressed to find anyone in the construction industry that does not know Kevin or one of his 5 brothers. Kevin's exceptional understanding of what customers need through his years of experience is just one of the reasons he has such a great reputation in the construction industry.

Aaron Ramsay

KPI Co-Founder

Aaron Ramsay has been involved in the construction industry for over 15 years. Being a qualified carpenter, advanced rigger, mobile crane operator as well as a tower crane operator. With these attributes he possesses a wealth of knowledge and experience within the industry. He has a hands on approach to all KPI staff recruiting and is dedicated to hiring high quality employees to ensure our service meets client requirements.

Angela Jarvis

Chief Financial Officer

Angela Jarvis has been with KPI since 2011 and is a valued asset to the business. Angela is adept at Tender Submissions, Cost Evaluations, and Quotations. Angela has broad experience in Financial Management, Accounting, Compliance, and Payroll.  Angela is passionate about working closely with clients and securing trusted partnerships through financial dedication, financial acumen, analytics, and overall performance.
Victoria
Shae Ramsay

Vic Director

Shae is the Director of our Victoria branch and has been with KPI construction since its inception, giving her 15 years of construction industry experience, both on site and within the office environment. Shae has extensive knowledge of multiple construction EBAs and Award agreements Australia wide and Manages Accounts Payable & Receivable Nationally.
Further being a fully qualified and Registered nurse, Shae also oversees the health and well-being of KPI's complete staff base and continually develops Occupational Health and Safety plans; which are implemented during our staff training programs in order to assist in maintaining safety and wellbeing within our entire staff pool.

Pat Condidorio

National Operations Manager

Pat is the National operations manager for KPI. Pat liaises with clients on a personal level to cater for each of their individualised needs and requirements. He will go above and beyond to oversee and maintain that the KPI staff pool will work within client budgeting and time constraints; and further advise the most cost effective processes for each of our clients projects. Pat has been a Traffic Control Supervisor for over 10 years and has gained extensive experience on sites around Melbourne in directing vehicular and pedestrian traffic around construction zones; ensuring the safety of construction personnel and the general public; Implementing and overseeing traffic control operations, lane closures, road closures and setting up signs as per TMP's, all whilst complying with local council, state and national rules and regulations. Pat has also worked for a top tier Worldwide construction company as their onsite Logistics Coordinator. Pat draws on this extensive experience to oversee and ensure KPI staff are continually up skilled in all aspects of their role.

Jade Ward

Vic Manager

Jade manages our Victorian office, the mother-hub of KPI Nationally. Jade has been in Management for over 15 years, and has extensive experience in maintaining an exceedingly functional and efficient office environment. Jade further oversees staff employment, inductions and qualification management, ensuring that KPI always has the right man for the job.
Queensland
Terry Knight

QLD Operations Manager

Terry Knight, has been involved in the construction industry for over 22 years and is a valued asset to the business. After becoming Nationally recognised in the Mining and Construction plant and equipment valuation sector, and previously the General Manager at his last Firm, Terry has developed significant leadership and communication skills with a strong mindset and belief that building working relationships with clients  is based on trust and on delivering satisfaction in a safe and productive manner. Terry manages the Queensland team as well as a strong team of Multi Skilled Tradesmen,Traffic Controllers and Labours. He is experienced in all things traffic management , and has the ability to provide cost effective solutions to his clients to increase productivity and work within programs.

Tara Ramsay

QLD Project Manager

Tara Ramsay has been heavily involved in the traffic management industry as both an Operations Manager and Project Manager for over 12 years. Tara's hands-on experience makes her a valued asset for KPI, her commitment and dedication to her role ensures you are always getting quality service. Tara will always strive to accommodate the construction and civil industries needs for professional traffic management and labour, while managing all aspects of the project to increase performance and maximise productivity. Tara also looks after the Queensland permits and has worked hard to build great working relationships with councils all across Queensland to make sure KPI are always providing up to date permit advice.

Frank Prestinenzi

QLD Business Development Manager

Frank Prestinenzi is a dynamic and results-oriented Senior Business Development professional with 20+ years' experience in sales, operations, and crew management. His demonstrated success in new business development, competitive market share expansion, and customer relationship management within the civil infrastructure and traffic management sector. He is an astute communicator with a genuine passion for sales strategy and a well-rounded background in supporting a progressive organization. 
New South Wales
Steven Daniels

Operations Manager NSW

Steven Daniels joined the KPI team in 2020 and has already proven to be a valuable asset for the KPI Group. With extensive experience in both the commercial and residential industries, he brings a fast thinking, can-do approach to offer a complete solution for all of KPI's customers. Steven is responsible for the day-to-day operations management, compliance, scheduling, reporting, employee communication and client liaison. Steven has a strong commitment to providing a quality service and has a proven track record of successful project management.

Craig Reeves

Traffic Operations Manager NSW

With over 13 years experience in the Traffic Planning industry, Craig has a wealth of knowledge in all aspects of traffic management.  Craig has been involved in the traffic planning of several major projects throughout Sydney including the Monorail Sydney, Carlton United Brewery, University of NSW and the Star City Casino to name a few. Craig is adept at Traffic Control Plans, Traffic Management Plans, Construction Traffic Management Plan, Swept Path Analysis and traffic management consultancy.